June 8th 2018, Our CEO, Dr. Fan was invited to present in SAPA-GP(Sino-American Pharmaceutical Professionals Association - Greater Philadelphia) Annual Conference 2018, AI in drug discovery panel
Mar 16 2018, Publication of "Chemi-Net: A molecular graph convolutional network for accurate drug property prediction"
Picture: (Left panel) Percentage R2 improvement over Cubist using Chemi-Net.
(Right panel) Overall network architecture. 
Absorption, distribution, metabolism, and excretion (ADME) studies are critical for drug discovery. Conventionally, these tasks, together with other chemical property predictions, rely on domain-specific feature descriptors, or fingerprints. Following the recent success of neural networks, Accutar developed Chemi-Net, a completely data-driven, domain knowledge-free, deep learning method for ADME property prediction. To compare the relative performance of Chemi-Net with Cubist, one of the popular machine learning programs used by Amgen, a large-scale ADME property prediction study was performed on-site at Amgen. The results showed that our deep neural network method improved current methods by a large margin. Accutar foresee that the significantly increased accuracy of ADME prediction seen with Chemi-Net over Cubist will greatly accelerate drug discovery.
Jan 10, 2018: Accutar's side chain flexible docking platform assisted discovery of bisubstrate inhibitors of Nicotinamide N-Methyltransferase (NNMT)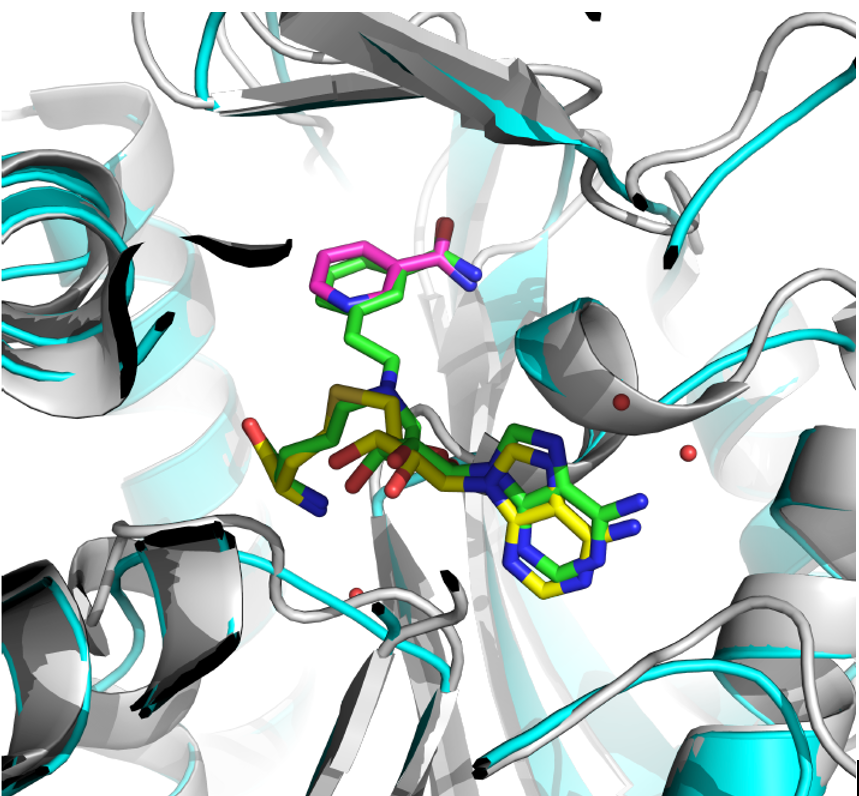 Picture: Side chain flexible docking model (in green) enables chimera design of two ligand fragments (in yellow and pink).
A bisubstrate NNMT inhibitor was developed aided by accutar platform recently. The binding pose of designed inhibitor with hNNMT was predicted by Accutar's side chain flexible docking method. The docking result was further validated by crystallization experiment.
Sep 27, 2017: Dr. Fan, presented Accutar's proprietary deep neural network framework in AI in drug discovery congress, London
Jul 26, 2017: Publication of drug binding pocket side chain prediction by deep neural network
Using a deep neural network architecture without physics-based assumptions, Accutar have demonstrated that side chain conformation prediction accuracy can be improved by more than 25%, especially for aromatic residues compared with current standard methods.